The quickest way to search in Ultra Recall is Quick Search.
Ways to Quick Search:
Any Info Item based on the Search Template is a Search Info Item. The Quick Search Info Item (in the Search Pane) is defined by default and cannot be deleted. You can use the Ctrl-Shift+F keyboard shortcut or the menu entry: Edit | Find to quickly navigate to this system Info Item.
Below is the Search Criteria Editor in Quick Search mode: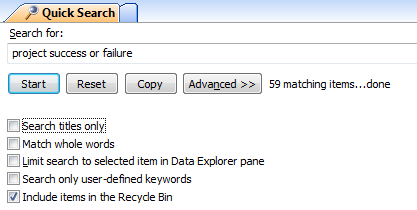 Quick Search options:
How to use a Quick Search:
See also: