The Item Attributes Pane is the pane that displays and allow editing of the Attributes for the Selected Info Item(s) (specified by the current Primary Selection Pane). To go to the Item Attributes pane, select View | Other Windows | Item Attributes on the menu or press Ctrl+4.
Each row is a single attribute name/value pair. New Attributes can be assigned to the selected Info Items(s), and non-mandatory Attributes can be deleted from the selected Info Item(s).
Here the Item Attributes Pane is shown in its default location, docked together with the Item Notes Pane.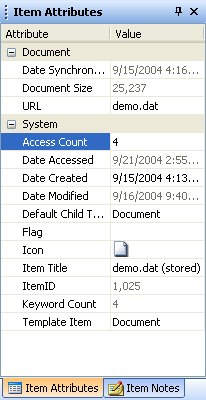 Each Attribute displayed with the Item Attributes Pane is defined with an Attribute Type. Several Attribute Types use special editors in the Value column to facilitate viewing and editing. These editors are described under their respective help entries in the Attribute Types help section.
While URL values are simply strings, and are stored in Attributes using the String Attribute Type, several additional features are provided related to these special strings:
Note: You can resize the Attribute column width using Ctrl+Left and Ctrl+Right respectively when this Pane has focus. You can turn the header in this Pane on or off via View | Show Header.
How to access:
See Also: