A Mozilla Thunderbird / Postbox toolbar button and context menu is available to quickly and easily import the selected emails from Mozilla Thunderbird and Postbox directly into Ultra Recall.
Toolbar button
Context menu (available from a right click)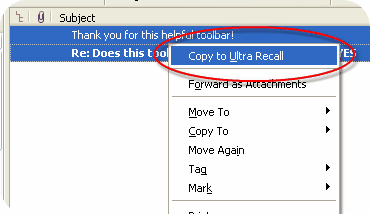 Copy to Ultra Recall: Clicking the button or context menu entry will create a new Info Item in Ultra Recall for each selected email (storing the entire email message with attachments in Ultra Recall).
Installation (use one of these two methods):
•

Check the

Install Firefox/Thunderbird/Postbox toolbar extensions

checkbox during installation of Ultra Recall (this method will only install to the default user profile).
What to do if the toolbar button isn't displayed in Mozilla Thunderbird or Postbox:
a) Right-click on the toolbar and click Customize Toolbar
b) Drag the Ultra Recall toolbar button from the dialog to the desired toolbar
c) Click Done
Note: Make sure the Use document title for item title if available option on the Import (More) option page is checked in order for Ultra Recall to use the message subject for the item title (instead of email1.eml).
Compatibility:
See Also: