Any text that can be edited in Ultra Recall can be spell checked. This includes text in the Rich Text Editor, Text Document Editor, and the Item Notes Pane.
The image below shows the Spelling Dialog that is displayed for words detected as misspelled.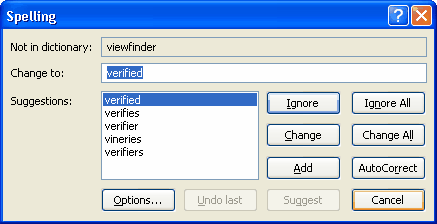 When a word is detected by Ultra Recall to be misspelled, it will be underlined with a red wavy line. From the context menu (right click on the highlighted word) you can choose from the suggested corrections to immediately correct an individual word.
Ways to spell check an entire body of text:
Menu Bar: Tools | Spell Check
The spell check dictionary included with the basic installation of Ultra Recall is English. Dictionaries in the following alternate languages are available for download/installation:
See Also: