The Attribute Properties Dialog is used to edit the properties of individual Attributes.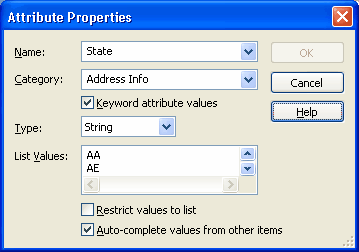 Name: The name of each attribute must be unique.
Category: You can select an existing category from the list or enter any category name of your choice.
Keyword attribute values: If this box is checked, Ultra Recall will add all automatically generated keywords based on the relevant text of the values assigned to this Attribute.
Type: Select the Attribute Type for this particular Attribute.
List Values: Values added here (one per line) are available as entry choices in a drop-down for this Attribute when displayed in the Item Attributes Pane.
Restrict values to list: If List Values are provided, checking this box will restrict entry to the values specified. If not checked, users can enter any value manually in addition to choosing from the values provided.
Auto-complete values from other items: If this box is checked, this field will auto-complete from the values assigned to this Attribute for all Info Items.
Allow multiple selection: If Restrict values is checked, checking this box will allow the user to select multiple values for the attribute.
How to access:
Note: Creation and modification of attributes available in Professional edition only.